Looking for the best cabinet face frame clamps for easy frame installation? We got you covered! We know that finding the best product on your own can take a lot of time and effort and that this can be especially difficult for someone who's on a tight schedule and doesn't have time to waste. The good news is that you don't have to search the Internet endlessly to find your perfect set of clamps.
With our list of the best clamps on the market and our summarized buying guide, you'll be able to purchase the best product in actual minutes and without breaking a sweat! Forget about wasting time and learn how to shop for your must-have products like a real professional right away!
Best Cabinet Face Frame Clamps for Easy Frame Installation—Top Picks
1. Bessey Clamps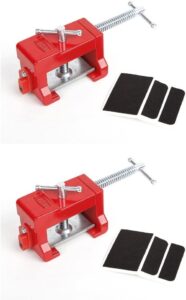 The first clamps we're going to list are the Bessey clamps that include two face frame cabinetry clamps you'll love. You can tighten, align, fasten, and pre-drill your cabinet stile without having to reposition or remove the clamps. Easy-peasy!
These clamps are equipped with a pilot-hole drill guide that you can easily flip out of the way to drive in the screw effortlessly. They work on stiles up to 1-1/4 inches. The clamping capacity is 4'', the jaw 2'', and the clamps boast a clamping force of 300-600lbs. You can look forward to non-marring felt pads for clamp faces, as well as an alignment plate that will protect the points of contact on your cabinet to the fullest extent.
Pros
Cons
●     Easy to use

●     Non-marring

●     Excellent clamping force

●     Pads are too thin
2. Pony Clamps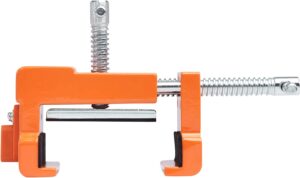 The next ones on our list are the Pony clamps that can be a super unique gift idea for your special someone. They are high in quality and very convenient to have around, so if you have someone who's into DIY-ing or similar hobbies, this can prove an amazing gift idea.
These clamps will work on stiles from 1-1/2 inches to 2 inches. The jaw width is 2 inches, throat depth is 1-1/2 inches, and the maximum opening capacity is 4-7/16 inches. The clamps are also quite easy to install and use, and they feature protective pads that will keep your cabinets safe and protect them from becoming marred upon installation. They are also highly durable, so you can expect them to provide a long and quality service life.
You can easily tighten, align, pre-drill, and fasten face frame stiles while the clamps stay in their original position. If you need a product that is very high in quality but also easy to use and install, this is your perfect option.
Pros
Cons
●     High in quality

●     Durable

●     Easy to install

●     Heavy
3. POWERTEC Clamps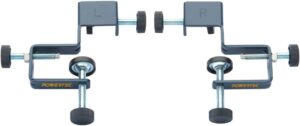 These POWERTEC clamps are extremely easy to use and adjustable, so you won't have any issues when working on your next project. The set includes 2 drawer front installation clamps that you can use with ease and without worrying about them being too heavy or difficult to work with, like some of the others on the market.
The micro-adjusting screws will allow the essential fine-tuning of your front panel placement. These clamps will provide you with an easy and accurate installation of the perfectly aligned front drawer panels. You'll be able to finish your projects quickly and accurately without experiencing any issues. They are also quite versatile and accommodate different sizes and thicknesses.
You can use them and operate with them even when the drawers are closed. They will save you precious time and hassle while promising flawless results with minimum effort.
Pros
Cons
●     Easy to use

●     Great quality

●     Well made

●     Leaves a circle mark on cabinets
4. Rockler Clamps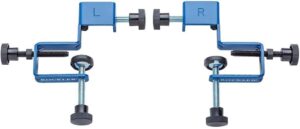 We'll move on with the Rockler clamps that will prove a perfect and handy tool whenever you need it. These clamps hold the drawer fronts firmly in position and allow you to drive the screws with great precision and accuracy. If you're looking for an easy and fast installation process for drawers and cabinets, these clamps are sure to get the job done.
The dual clamp heads and micro-adjustable stops that they feature will make getting the perfect alignment a piece of cake. Who says that securing drawer fronts to the drawer boxes has to be a challenge? Even if it is, the Rockler clamps are certainly up for it! The thin frame profile will allow you to close the drawer with the heavy-duty clamps on, which will make checking your alignment super easy and convenient.
These clamps are very easy to use as well. All you need to do is clamp the drawer front in position, then use the adjustment screws to fasten it in place. You also won't need heavy clamping pressure to get this done. If you're a carpenter or cabinet maker, you will find these clamps very convenient to have around. They can make your job ten times easier. If you have a special someone who's into carpentry or woodworking and DIY-ing, you can get them these quality clamps for almost any occasion as well—they would be a perfect gift.
Pros
Cons
●     Dual clamp heads

●     Excellent craftsmanship

●     Durable

●     Pricey
5. HARDELL Clamps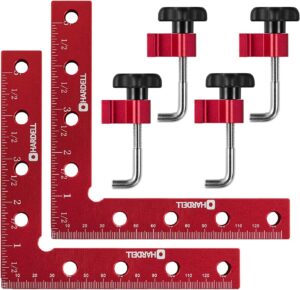 We will conclude our list of the best clamps with the HARDELL clamps that are well-known and recognized globally. These clamps will make your frame installation process a lot easier and less demanding than it has to be.
These clamps are made of high-quality aluminum alloy and stainless steel, which means that they will ensure 90-degree accuracy, but they can do more than that. The fact that this set is made of such high-quality materials means that it will last for a long time and be highly durable, which is something you should definitely be looking for when it comes to clamps. You will not have to waste time purchasing a new clamp set every once in a while since this one is certain to provide long service life.
These clamps are rust-proof and corrosion-resistant as well, so you don't have to worry about them getting rusty and malfunctioning any time soon. It is super easy to use and position the 90-degree positioning square in the corner. After that, all you need to do is secure it with a set of wooden clips and you're done.
The woodpecker's beveled edges are designed in a way not to damage the fragile cutting edges, so you can create a perfect 90-degree angle with ease and without worrying about a thing. The clamps are designed to be clamped on any type of box and to assist in leveling during the bonding process. These clamps are very practical and can help you make your woodworking projects a whole lot easier. They are also an excellent gift for fathers, husbands, woodworkers, and anyone else who's into these kinds of projects and hobbies.
Pros
Cons
●     High-quality

●     Easy to use

●     Rust-proof

●     Don't spin as well as they should
Buying Guide
Since buying the best cabinet face frame clamps for easy frame installation is not such an easy task, we're here to help. When shopping for these kinds of products, you can't simply start the journey without knowing exactly what to look for. That way, you will only get confused and overwhelmed, and you will risk getting a product that will not work well for what you intended it for.
You might also have to go through the entire shopping ordeal again if you happen to get the wrong product, which only further wastes your time and effort. Luckily, learning about what to look for when choosing the best clamps doesn't have to be a burden.
There is no need for you to waste time and effort trying to find this info on your own. We did all the research and summarized the info into a neat buying guide that you'll be able to go through in actual minutes. Once you learn all you need to know from our buying guide, you'll be able to shop for frame clamps at any time and anywhere. Take a look at the list below to see what factors you should consider when purchasing cabinet face frame clamps:
1. Quality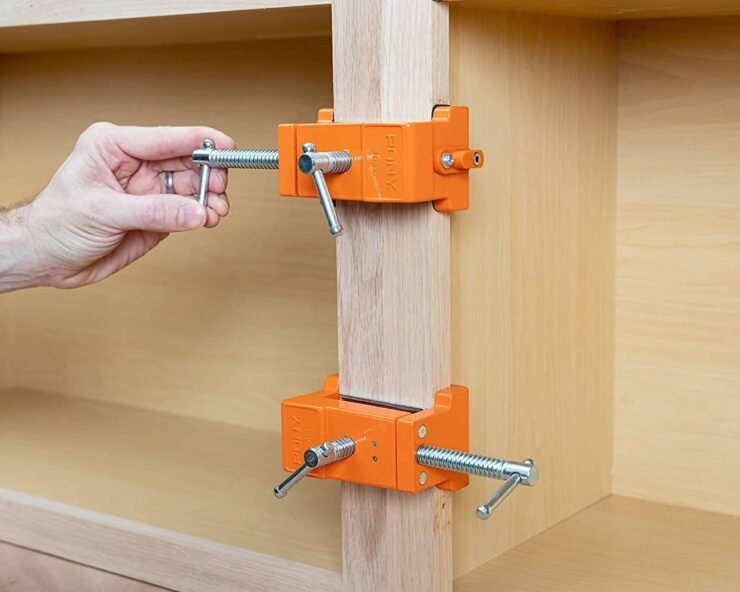 The quality of the product you're purchasing is the first and most important factor you should consider. The reason why this is important is that you don't want to get a product that will last for a short period of time and provide you with poor performance. Low-quality products tend to provide such an experience, and that is why it is advisable to avoid them.
You should always aim for high-quality products that are made with premium-quality and highly durable materials. That way, you won't have to break your bank on getting a new product every once in a while, and you can look forward to having the product with the best performance at all times. The information regarding the quality of the product can be found in product descriptions.
2. Durability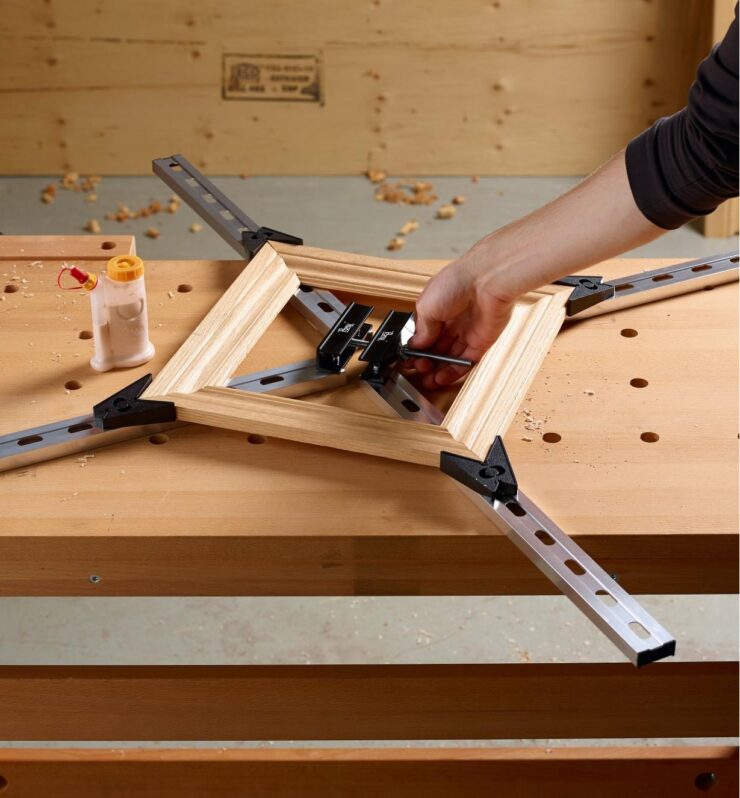 The second thing you should factor in is how durable the clamps you're getting are. Durability is very important and dictates how long the service life of your product will be. Having a product that is made of highly durable materials is the best and safest option if you don't want to worry about it failing to do what you want it to.
When it comes to clamps, you don't want them to be weak and not be able to do the job you bought them for. That is why checking product descriptions to ensure that the clamps you want to get are durable is a must.
3. Design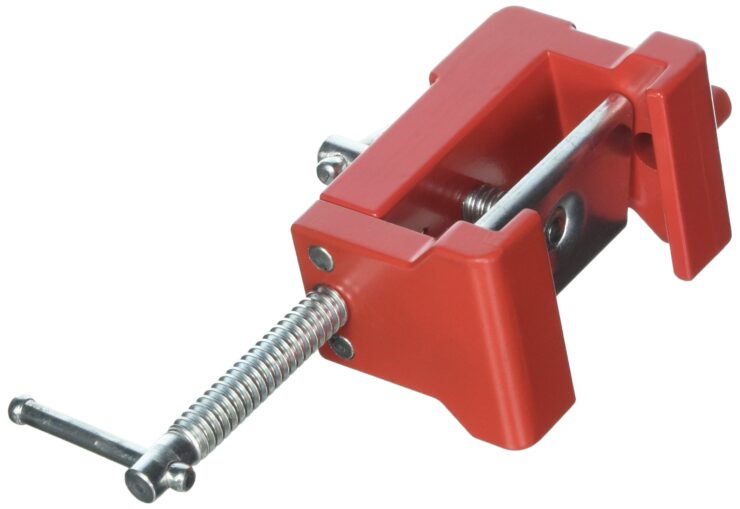 Design is the last on our list of factors you should consider, but it is certainly not the least. The design of your clamps will dictate how convenient they will be and whether you can use them for various tasks or only one. If you want to get this product as a gift for someone special, you should make sure that the design it features is something that the person you're getting it for likes.
If you're getting it for yourself, you should make sure that it meets all your requirements and is able to do everything you want it to. Product descriptions and customer reviews are the best places you can check to find useful info about design, prior to completing your purchase.
FAQ
1. What Can You Use Frame Clamps For?
These clamps are mostly used to hold and secure objects tightly together and prevent any movement or separation. You can use them for a wide range of different tasks, but this depends on the type of clamps you get. Make sure that you buy the ones that can be used for more tasks than one.
2. How Much Should I Tighten the Clamps?
You should make sure that your clamps are tight, but you shouldn't make them too tight. For most joints, the max recommended pressure is 250 psi.
3. How Should I Determine the Clamping Force?
One of the main things you should know how to do is determine the clamping force. You can do it from the cavity pressure that is inside the mold but also from the shot projected area where the pressure is acting.
Conclusion
You don't have to struggle to find the best cabinet face frame clamps for easy frame installation. Although there is a deluge of options to choose from, you don't have to choose that difficult route, especially when you have a much more convenient solution at your fingertips.
Our short list of the best options out there, as well as our buying guide, is your golden ticket to purchasing the best clamps with ease and in record time. All you need to do is spend a few minutes reading our article and decide which option you like best!